Critic's Review
Closed. They say it's closed for renovations, but I doubt they'll reopen the same concept.
**********
Tokyo Blue is a new restaurant and lounge located in the Ocean Manor Resort hotel. Its marketed as a high-end Restaurant and ultralounge offering a mix of steaks, japanese, Thai and peruvian cuisine. In other words, they have no real focus.
The first thing you notice upon walking in is that the place smells like fish. The restaurant is just off the smallish hotel lobby and when you open the door its not entirely clear that you've found the place. There's a wide room with a bar in the middle, which turns out to be a sushi bar. To the left is the "dining room" with some tables and a big window with the highly touted "ocean view". Unfortunately the pool is between the restaurant and the ocean so your view is mostly middle aged parents and their kids sloshing around in the pool.
One thing is that you don't feel like you're in an asian restaurant. The colors are more aqua than blue; the main decorations are gem-encrusted mermaid fins and a big fish tank; I guess to symbolize seafood? The servers and bartenders are more likely from New Jersey than Japan. There are some kimonos in glass frames on the wall, but it fails to convince me that there's much asian influence in the design here.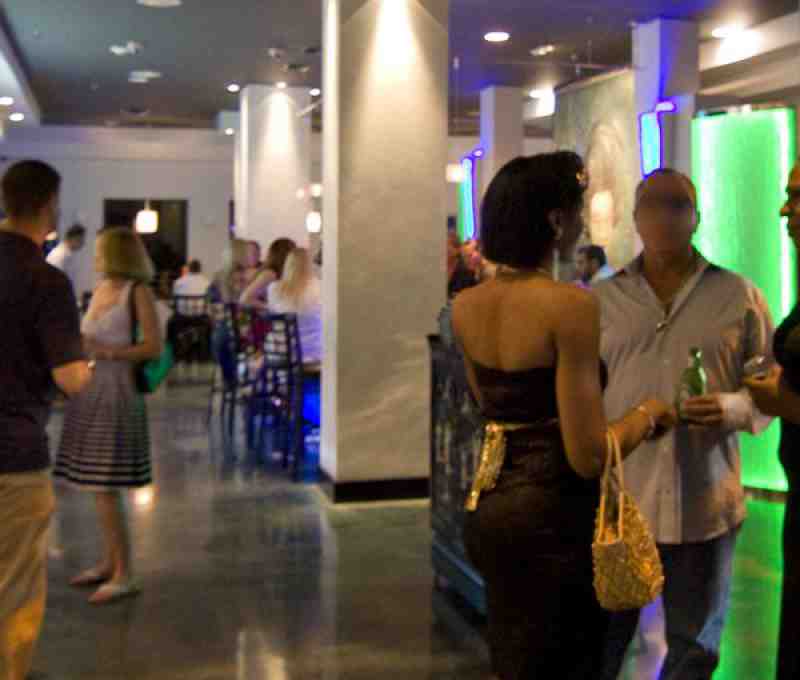 To the right is the lounge, a rectangular room with an acrylic bar with blue lighting. There's a "VIP" area with booths on one side and a dining area with some tables on the other. There's not a lot of space for hanging out. One side of the bar is open to the main room and you'll be pelted by servers if you stand there, another side is right in front of the service room and you'll feel like you're standing in the dining room, while another is a narrow area between the bar and tables where 1 person standing will obstruct anyone else walking by. Luckily here on opening night its not very crowded. The biggest confusion is the bathrooms, which are only marked with blue masks that can barely be distinguished between male and female in the darkened room. Hopefully they'll get some signs in English to avoid drunk people finding themselves in the wrong facility. There are TVs, but you can't view them easily from a seat at the bar. This isn't a place to come to watch a game.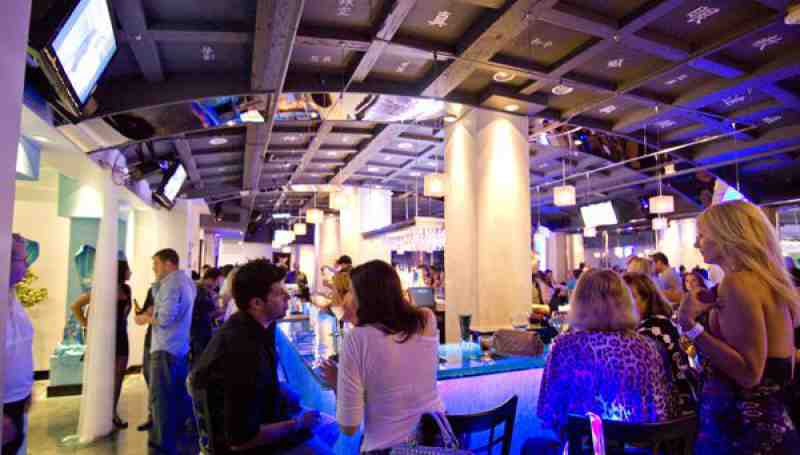 Most of the dishes I saw were sushi; I didn't see anyone eating steak. Tokyo Blue seems to be all about presentation. Prices seem unreasonably high. An Usuzukuri appetizer is $26 (tuna, salmon or whitefish in Ponzu (citrus) sauce). Prices here are about twice what you would expect to pay at your typical sushi restaurant. Usuzukuri at Asahi City 23 is 8.95. They get a lot of milage out of their Ponzu sauce here. My favorite, Beef Negimaki is of course not on the menu. They do have Pad Thai and you can get a porterhouse steak for $32, or Kobe Beef (3oz minimum @$25/oz).
Their website is a disaster. I'm continually amazed why someone would put so much money into a restaurant and ignore the value of modern marketing. The website is incompetently designed and implemented. Flash is wrong generally; the fonts are unreadable, there are bad, small pictures and the menu with a wacked-out slider bar does more to annoy than inform. Whoever did this knows nothing about marketing, SEO or user interface.
Additionally, they advertise "2-for-1" cocktails for happy hour, when all drinks are 2 for 1. Another marketing genius who costs the owners money by misrepresenting what they'e offering. I guess "cocktails" sounds more elegant, but it also implies that beer and wine isn't included.
There are issues with this place that bring question to its survivability. The hotel is medium end and attracts more of a blue collar type crowd. So the "club" and the lobby and the people wandering in who are staying at the hotel give it a strange feel. Sort of like the disco on a cruise ship. Additionally, the locale lends itself to more casual venues; and the type of people who like those kinds of places live and lodge here. Is the Las Olas crowd going to find its way down to this neck of the woods? Will the kind of people who stay at the Ocean Manor for their $89 rooms take their family to Tokyo Blue for a $200 dinner? Time will tell.
That being said, Tokyo Blue is about the only place in Fort Lauderdale to get sushi in a nice restaurant setting. The food is clearly better and more authentic at Marumi or Asahi City, but you can't really take a hot date to Asahi City. But hot dates are going to cost you, and when you have someone who thinks that eating sushi is sophisticated you may just find yourself coming to Tokyo Blue.