Critic's Review
I had some downtime in Boca so I thought I'd check out Gary Rack's new restaurant in Mizner Park. Rack's Downtown Eatery is a bit hard to find; its set back a bit; tucked in between Max's and Villagio. Its actually a pretty good location as its off of the main sidewalk and they have a long, outdoor patio that doesn't get a lot of foot traffic to interfere with the ambiance. I'm not sure why they call it "Downtown". Is Mizner Park downtown? Its a mall. But I guess for Boca Raton, its about as downtown as it gets.
Inside, the place is very impressive, with modern decor and an open feel. The long bar is indoor/outdoor; the only negative being that its a bit bright before sundown.
Their web site is unnecessarily vague about their happy hour; they only claim that its the "Best Happy Hour in Mizner Park", which doesn't tell me anything I want to know. They also don't have a menu posted at the door. I called and they told me that Beer, well drinks and appetizers were all half price. I just needed a snack, so it seemed like a perfect match.
I ordered a Stella beer, and they give you a big, 20oz glass; a real bargain at $3. But the Crab Cocktail I had my eye on was excluded from the half price appetizers. They call Shrimp and Crab cocktail part of their "raw bar", even though, of course, they're not raw and really pretty standard appetizers. I've come to expect such deception, but I really couldn't find anything else that was half price that I wanted. I don't want green apple and radish in my tuna tacos, nor did I want apple marinated ribs; particularly if its served with watermelon. I decided on the "Salmon Chips", which are loosely described on the menu as having chives, capers and egg.
While I was waiting, I scoped out the place. They have a raw bar up front that you'd think was a sushi bar if the place had sushi, big rope faux chandeliers, and a couple of flat screen TVs at the bar. The bar has bench seating that seat 2 or 3 people each, so you may be sharing a bench with a stranger. None of the games were on the TVs, and you wonder why restaurants bother to have TVs if they're not going to manage what's showing on them.
Finally, my food arrived.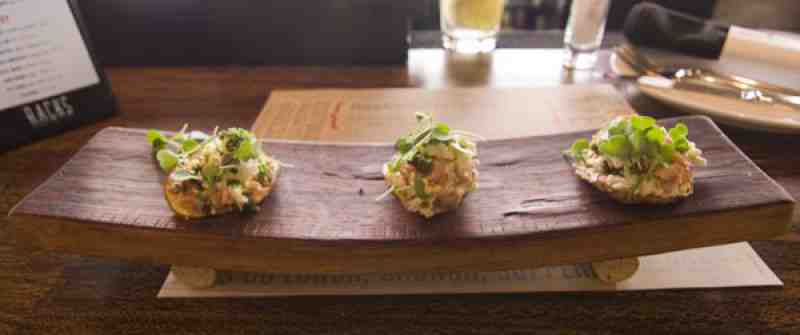 What we have here is 3 potato chips, topped with a mixture of salmon, hard boiled egg, capers, chives and finished with watercress. Its really more of an hors d'oeuvre than an appetizer, and even at half price the portion is disappointing. It seemed to me that 4 would be a more reasonable portion. I've since confirmed that they give you 4 chips when you pay full price; which makes their 1/2 price apps offer at least partially bogus. It's not half off if they give you a smaller portion. The chips were good but difficult to eat. Its really food thats more about presentation than anything else. Its not even enough for a snack.
The menu here reminds me of Yolo; a lot of fancy stuff but not enough solid food. If you like fancy stuff, fine. Thats what you get. The happy hour is a pretty good deal for drinking; you can't go wrong with $3 premium drafts. And the restaurant is impressive. Its likely that Boca girls will prefer it over Ben's Deli. But do note that the happy hour pricing is only at the bar.
There was a troubling incident where a manager gave a bartender a chipped glass and told him to use it to make drinks. While its true that you don't want to serve chipped glasses to people as it may cut their lip; there's also the chance of further chipping. Why would a place that reportedly spent $4 million on a buildout be using chipped glasses for anything? It just makes me wonder what other corners they're cutting behind the scenes.