Critic's Review
Now Closed. The new owners have left up the Lemongrass sign, but it's now under new ownership and named Spice Sea.
Lemongrass has 4 locations, and they're yet another of the one size fits all Asian restaurants. They claim to be Thai:Sushi:Asian Noodles:Vietnamese, but they also have teriyaki and tempura dishes, so I guess they're Japanese also. While its nice that there are more choices, the expectation of authenticity is diminished when the kitchen will cook you virtually anything from the far east. They also have wonton soup, so you can add Chinese in there as well.
The big news is that they have a cool new sign; I like it.
Lemongrass has a bit of everything: a dining room, a sushi bar, and outdoor patio, and they also have a waiting room where you can sit and wait for a table or for your take out to be ready. I ordered one of their lunch specials, beef in a thai basil sauce. The first annoyance came early, as the price on their web site ($6.95) isn't correct. Its $7.95. When I ordered on the phone, a women I could barely understand was asking what choice of something I wanted; but the menu doesn't say I get anything extra. Finally I made out "spring roll", so I ended up getting one of those also. Apparently its included despite no mention on the menu.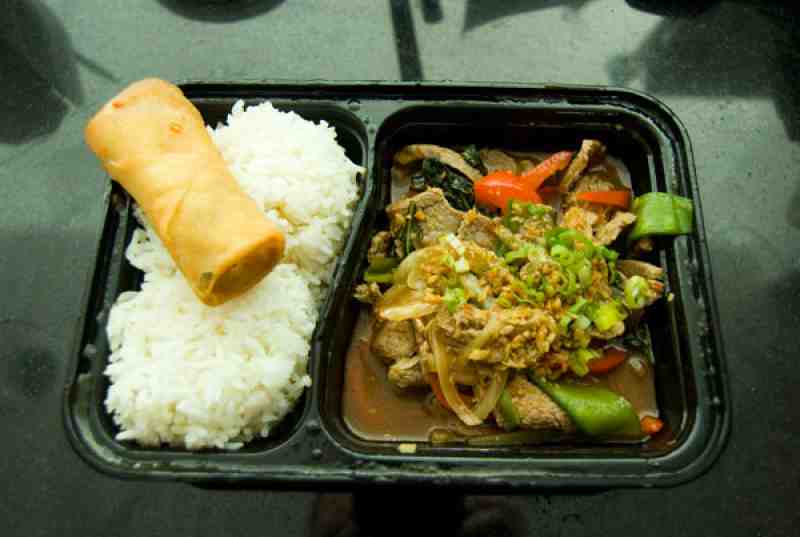 Presentation-wise, this is pretty good for takeout. I also like the fact that their containers separate the rice from the main dish so you can reseal it without having to deal with boxes. They used good ingredients, although it wasn't very spicy. They gave plenty of beef, but the beef wasn't tender. The spring roll just had cabbage and carrots in it and was just a waste of calories. It was an "ok" lunch but nothing I'd be interested in ordering again. I definitely wouldn't order the beef again.
They do have a large menu here and they do deliver.