Breakfast is the most important meal of the day, they tell us, but its the most underreported meal of all. Newspapers never review breakfasts; its not cool enough. You can't show off your culinary prowess by reviewing omelets and toast.
Before I moved to Fort Lauderdale, I rarely went out for breakfast. Its easy to make myself. In most places your only choices for breakfast are Denny's, iHop and Diners; or maybe an egg sandwich at a deli. But even that's important. Nobody should start their day with a bad egg sandwich. When I was away from home, either on business or on vacation or on a cruise, I really enjoyed going out to breakfast. There's something nice about eating breakfast outside too.
As Fort Lauderdale is a touristy kind of place; we have a lot of choices here. Some are better than others. Some are better deals than others. I've been to most of them, so I'll try to point you in the right direction.
There are decent breakfast places in every part of town. If you don't care how much it costs, then you can dine almost anywhere. Most good hotels have good breakfasts, but they gouge you on price. They know that most tourists don't want to spend their morning driving around looking for an iHop. But they didn't anticipate this article.
Fort Lauderdale Beach
If you're staying at a hotel by the beach, there are a lot of choices for breakfast. Most of them aren't good choices, however, and some of them are very expensive bad choices. Hotels jack up the price for breakfast on purpose, hoping that their guests aren't going to want to leave the hotel to eat. But in most cases its worth going elsewhere, in terms of price and what you get.
There used to be some cheap places by the beach, but they're mostly now serving bad breakfast for too much money. Spazio, Cafe Del Mar. Nice views, bad food, About $12. You can have a nice breakfast at the W or at the Ritz Carlton for $22, but to me that's too much for breakfast.
If you're on the "other" end of the beach (by Sunrise), you can try Primanti Brothers for something cheap. For $10 including tip you can have a full breakfast, as long as you don't mind eating in a place that smells like pizza at 8am.
Las Olas Blvd
If you're up on Las Olas either for business or if you're staying at the Riverside, there are surprisingly few choices. You basically have 2 choices for a nice outdoor dining experience with a decent breakfast. The Riverside hotel itself is a nice place with a decent breakfast, although they'll charge you $4 for coffee, so it will end up costing you about $15. My personal choice would be Cafe Le Bonne Crepe, which is a block and a half east of the hotel. They have a good selection of omelets, crepes and french toast, and its a nice little sidewalk cafe. The food used to be a lot better, but its still pretty good.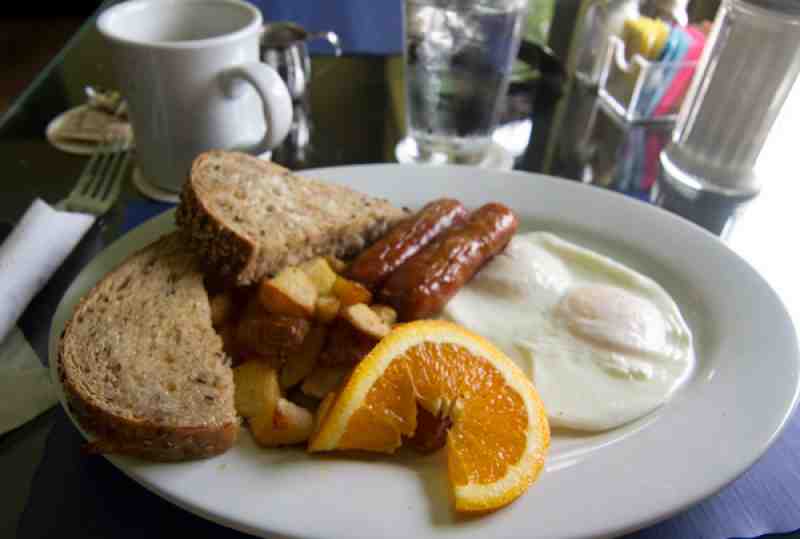 A new place has opened downtown; it's a short cab ride from either of the hotels or a 1/2 mile walk. The Old Fort Lauderdale Breakfast House offers a nice alternative to the hotel breakfast. It's not that cheap, but they have good food in a good atmosphere. It's more like brunch 7 days a week than breakfast, and they serve breakfast until 3pm, so its your only non-diner choice for a late breakfast during the week. When they first opened, their "Standard Breakfast" was $9. Now it's $14. I don't think it's worth the prices they're charging.
E 17th Street
If you're staying over on E 17th Street, you need to go to Joe's Cafe. Joe's is a diner, coffee shop kind of place located in Harbor Shoppes by Publix. Its a nice, clean place, the service is great and they have good food. There's no sidewalk ambience in this part of town, but its a good solid place for breakfast any time of day. Another place that's easy to miss is the Harbor Cafe, a little coffee shop with good food at a good price.
Lauderdale By The Sea
Lauderdale by the Sea is a real breakfasty kind of place; its a small village with a lot of outdoor places. This is a very middle class place, so you don't have to worry about getting gouged. If you're on foot, Country Ham and Egg Restaurant is a worthy choice; better than the Aruba. The Sea Ranch Diner has closed, unfortunately, and a First Watch opened. I don't like places that can't serve an egg without breaking a yolk.
Hollywood
There's a bunch of places at Hollywood Beach but I don't have enough experience down there to give a recommendation. In town, many will try to steer you to JB's Bagel; but I don't care for the place. I'd rather send you to Jack's Hollywood Diner, which is a much better place. It looks like a real hole from the outside but its not bad on the inside. Not great, but not bad for Hollywood. Another choice is Grampa's Bakery & Restaurant. Grampa's has been featured on the Food Channel; I have a friend who eats breakfast there every day. I wasn't that impressed, but in Hollywood its legendary.
Random Others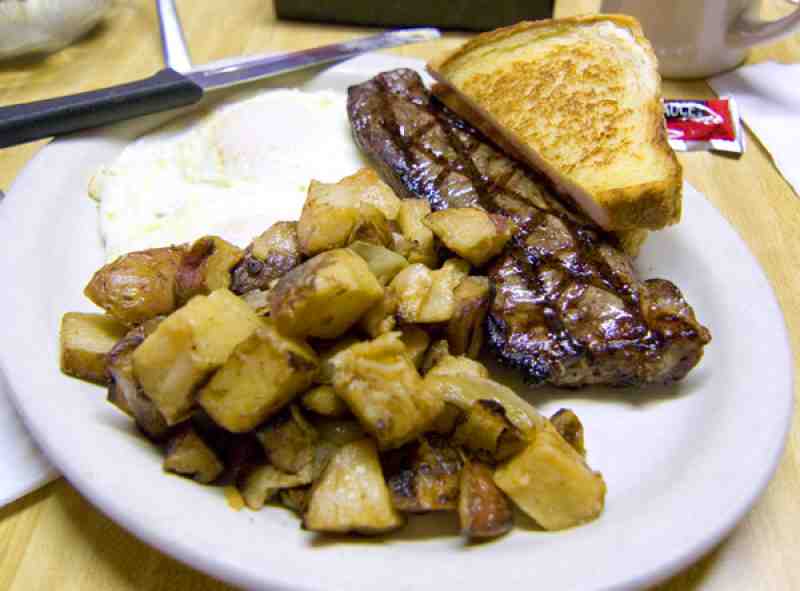 Scattered about town are some pretty good places that you'll likely have to go a bit out of your way to find, but they're worth it for a little breakfast adventure. Original Pancake House has locations is just about every town, and they're a veritable chain; the corned beef hash is outstanding. They're sort of what IHOP used to be before they became a bad chain. Out on Route 84, there's Lil' Reds, a little home cookin' place with good food and crazy low prices. In the middle of no-where is the Cypress Nook; some like it better than I do. Another hidden gem is Julians. where you can get stuff like veal and eggs or pork chops and eggs.
Summary
I didn't even mention all of the Dennys, iHops and McDonalds in town; there are a lot of places to grab breakfast in Fort Lauderdale. You can get breakfast in any major hotel; at a price. But no matter where you are, there's a good reasonable breakfast nearby. You just have to know where to go.
As for the main picture on this article? Its the Vienna Cafe in Davie. A bit out of the way and they only serve brunch on weekends. Brunch is a completely different article.