Critic's Review
It appears that long time chef/owner Michael Wagner has sold Lola's to Robert and Audra Mignola.
******
The first thing you need to know about Lola'a on Harrison is that its in Hollywood and not on Las Olas. Hollywood is a more downscale area that is desperately trying to be more upscale. Unfortunately when you don't have upscale patrons in the area or upscale tourists staying in the area, you're gonna have a problem.
Lola's surprised me. I'd only seen reviews and one of the reasons I have this site is that you can't believe the reviews. Its a smallish place; it has the feel of a New York City restaurant; one of those in a cramped space put together on a limited budget. I think that's the feel they were going for, with the kind of chrome shelves you might have in your garage behind the bar holding bottles of wine and craft beers. The main dining room has a bar up front, one TV and a medium sized room with melamine tables and wooden chairs. There's a booth in the corner, and another room in the back.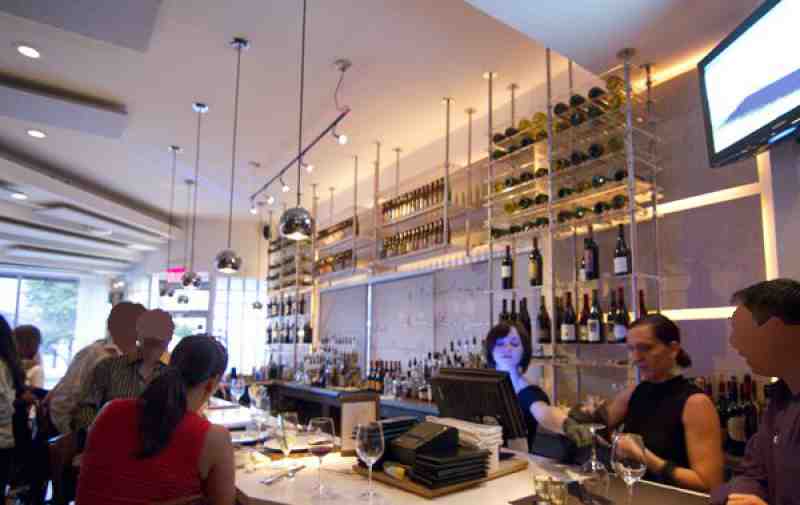 There's nothing regular about Lola's, which is not only the good thing about it; but also the negative. You can't get a beer you've heard of if you're not into craft beers. No bud light here. Their wine by the glass list has one of every standard type, no italian, so there isn't much choice. If you drink Cabernet you have 1 choice at $13. I was feeling like a beer, but I didn't want to take the 60% chance of choosing an unknown that I wouldn't like. I don't like being disappointed by a beer.
The time to go to Lola's is at happy hour, where they have a "bar bites" menu with smaller portions of their signature dishes. Braised beef cheeks, purple potato skins and ribs made with a coca-cola BBQ sauce are all the rave here, and you can get 1 rib or a small portion of these for $5 during happy hour. You'll need to read the ingredients for these; potato skins have caviar so you man be surprised if you're just looking for munchies during a game. Happy hour is 5pm to 8pm Tues - Fri.
They have no remote for the TV and the all-girl staff seemed to be unaware that playoff baseball is going on. They were diligent about putting the game on; but it was a chore. They also seemed a bit overmatched by the crowd; when a bartender has to say "I'll be right with you" 3 times there's a problem.