Why spend time researching and providing free advertising for restaurants that are only interested in capitalizing financially from the Holiday, just to get 3 days of traffic on a web site? While many restaurants are open on Thanksgiving, those that are offer overpriced variations of the $4 per person meal you'd make at home for $45 or more. The point of Thanksgiving is to break bread with family and give thanks for what you have; cooking and serving the food is the entire point of the experience. Going to a restaurant seems stupid to me, unless it's to enhance the feeling of community. Imagine if restaurants put aside their greed for a day to invite locals in for a feast at a fair price; to bring people together who may not have anywhere else to go. Fat chance of that in a city like Fort Lauderdale.
There's a reason we only eat Turkey once a year; it's because Turkey is a pain to make and it doesn't taste as good as chicken or steak. I don't think I've had Turkey in any form since my parents passed away; I have no interest in it. I'm certainly not paying $43 at the Capital Grille, who then add insult to injury by ripping you off by charging $12 for a slice of pumpkin cheesecake. You eat pumpkin pie once a year also; because it's not as good as any other choice. I'm not paying $55 for $6 worth of food just because the Pilgrims happened to raise Turkeys.
If you must go out, just about every major restaurant has a bad deal; all of the Hotels are definitely open. Ocean 2000 is offering a buffet for just $90 per person. People are so stupid they just keep raising the price every year and people keep paying it; or maybe they're just trying to screw their guest as a captive audience? Nothing like the holiday spirit to take advantage of people.
I haven't decided what I'll be having for dinner yet. I have a veal chop in the freezer, so maybe Veal Chop Parmesan? A heckuva lot better than Turkey and mashed potatoes.
And to all well meaning people who might invite me to a gathering; please don't. There's nothing worse than spending Thanksgiving with someone else's family and eating dreadful food prepared by people who only cook once a year. And it's uncomfortable telling people you'd rather watch football with a bowl of pasta alone than spend the day with them.
2015 Posting
Ok, so you're stuck in Fort Lauderdale for Thankgiving. If your family is here, or you're here visiting family, you'll have a big feast at home like most American Families. But maybe you're like me; your family is elsewhere and you're not making the trip. My Parents have passed away and I'm not traveling 3000 miles to have dinner and watch some football.
So what to do? Should I sit home with a Turkey sandwich? Make myself a cornish hen? Pick up some Chinese food and watch football? Maybe this year. I did Duffy's a couple of years ago; I think they had all you could eat for $14.95. Football on Big Projector screens.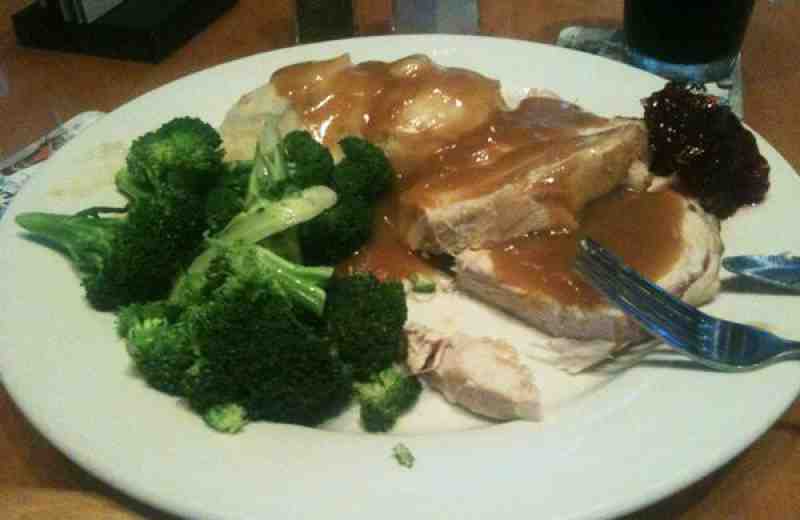 Nothing great, but something to do with lots of other people stuck in paradise for the Holidays. But they don't open on Thanksgiving anymore. Good for employees; not so good for the community.
I'd like to recommend a restaurant in Fort Lauderdale where you can go for a traditional Turkey dinner, but I can't. What we have is a city full of restaurants trying to cash in. There isn't one place offering a Turkey Dinner at a fair price.
Note to restaurants: Turkey is cheap. It shouldn't cost twice as much for turkey than it does for a regular dinner entree. There isn't one restaurant in this town with any sense of community? Not one place that isn't padding it's pockets at the expense of people who don't have the luxury of a big family gathering to attend? Sorry folks. This is about taking advantage of people, 365 days a year.
The biggest culprit is Pelican Beach, who is charging a whopping $70. per person for Turkey, Ham, Beef Burgandy, Chicken or Fish. They're charging $70. because the $65 they charged last year wasn't enough. The good news is that if you have a 5 yo it's only $35 for them, and they get their own "buffet" with chicken drums, mac and cheese and PB&J Sandwiches. And here's a little secret: The restaurant sucks. If you're staying there, do yourself a favor and cab it to somewhere else.
Steak 954 is offering an ala carte "Turkey Plate" with no pricing. We recommend you go somewhere else.
One thing that is patently obvious about trying to put this list together is how incompetent restaurant marketing is in this town. I can't believe places that say they'll be open but who offer no menu or price at all.
NOTE TO RESTAURANTS: Almost nobody likes Butternut Squash Soup, so stop making it the only option. If you don't want to be a bad restaurant, offer pumpkin pie and butternut crap, but provide another option. Being forced to eat that crap as a kid is one thing; for $35pp I expect another choice.
Best Value
This year's Best Value goes to The Field, where you can get a Turkey Dinner with live music for $18. Word is that they have Guinness there too.
Fort Lauderdale Thanksgiving Directory
Capital Grille
Galleria Mall
(954) 446-2000
$36pp for a Turkey dinner WITH NO DESSERT. Dessert is $10 extra. Just how STUPID are you?
Chima Brazilian Steakhouse
2400 E. Las Olas Blvd, Fort Lauderdale
(954) 712-0580
Thanksgiving Menu: 1-8:30 (last seating at 8:30). They don't have the price; assume it's at least $49.50, which is the regular price. They have the normal Rodizio plus Turkey and other traditional trimmings.
The Field Irish Pub
3281 Griffin Rd Dania Beach
(954) 964-5979
Turkey Dinner for $18 per person. Prime Rib for $26. Live Irish Music at 4pm.
Indigo at the Riverside Hotel
620 E Las Olas, Fort Lauderdale
(954) 467-0045
The Riverside Hotel clown act continues as they've raised their price from $49 to $65 for a Turkey Buffet. I'll be walking by just to see the faces of the morons who pay this price to eat at Indigo.
Isle Buffet
Isle Casino, Pompano Beach
954) 972-2000
Buffet with Turkey and "fixings", which they have all month. $24.99 pp
Johnny V
625 E. Las Olas Blvd. Fort Lauderdale
(954) 761-7920
No indication the Johnny is opening this year.
North Ocean Grille at the Pelican Grand Beach Resort
2000 N. Ocean Blvd, Fort Lauderdale, (954) 556-7667
$75pp. They do have Prime Rib and a Seafood bar. But still.
Ruth's Chris
2525 N Federal Hwy, Fort Lauderdale
(954) 565-2338
Offering a Turkey dinner for $39.95-$41.95 (varies by location, figure the high end) per person. But why go to Ruth's Chris for Turkey?
Shooter's Waterfront
3033 NE 32nd Ave, Fort Lauderdale, FL 33308
Offering a Thanksgiving Buffet with Turkey and Prime Rib for $45pp
Timpano Chophouse
450 E Las Olas Blvd, Fort Lauderdale
(954) 462 9109
This year, they're doing a Turkey dinner (no other choices) for $35pp. Timpano has become a disaster; a Tuscan Salad with candied walnuts, craisins and apples?
Truluck's
Galleria Mall
A turkey plate with soup I don't want for $38. per person.