Critic's Review
Bob Woltin has been trying to pass this place off as "high end Italian" by slapping new signs on the front since Rino Balzano left Rino's Tuscan Grill 8 years ago; if you wonder why I haven't been back since 2009 it's because he hasn't convinced me that he's actually trying to run a good restaurant. Their website had Luigi as the chef years after he left, and now he's back. Maybe. Woltin opened Luigi's next door where supposedly Luigi makes the pizza; is Luigi done with making pizza and meatball sandwiches and now back to crafting $22 bowls of Rigatoni Bolognese? Seems dubious.
They have a (probably un-permitted) sign saying they're open for lunch, but they don't have a lunch menu! So now you can get the Pizza Guy Luigi's great pastas for just $20/bowl for lunch. Spaghetti and Meatballs just $17.95. I think the strategy is to try to trick another season of tourists that there's something new here.
They have a "USDA Prime Steak of the Day", which probably releases them from actually having to serve a USDA Prime steak. Sound like a trick to me.
You can't make this stuff up.
Review 10/13/09
No place screams out "Tourist Trap" like the Tuscan Grill. The place gained "fame" as Rino's Tuscan Grill, back in a time when mythical chefs touted by fake newspaper critics ruled the earth.
They also lease the patio space next door in a space that would appear to belong to Asia Bay. I'm not sure exactly how the deal works; Asia Bay is up for sale so who knows what the arrangement is.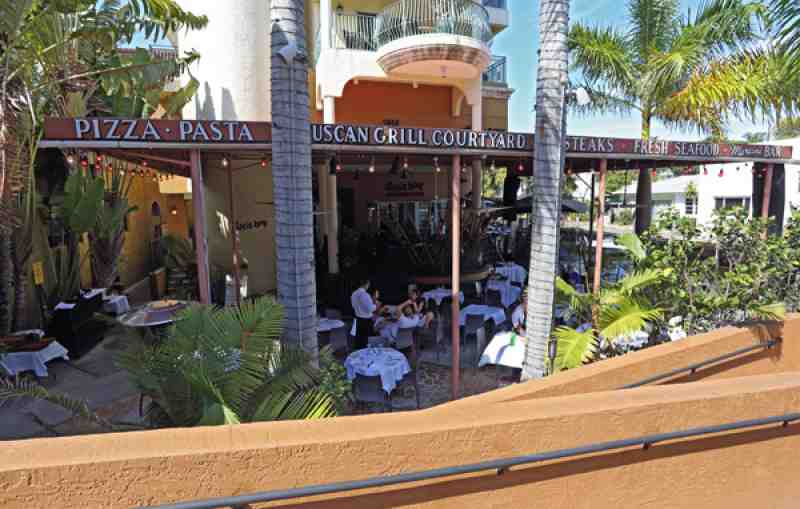 Word on the street is that this place has turned into a place where the servers urge you to buy expensive water products and push wildly overpriced cocktails. I stopped by when they were open during the art fair, but the prices where so outrageous that I decided not to spend any money here. There was also a creepy looking dude on the patio glaring at people; not very inviting.
Tuscan Grill is a remnant of the Louie, Louie empire once owned by Robert Woltin, which is now comprised of leftover Johnny V's and Tuscan Grill. They've never even bothered to file for use of a Fictitious name; they still operate under the name Rino's Tuscan Grill.
I know of no-one in the neighborhood that thinks that Tuscan Grill is a good restaurant. Luigi DiMeo used to be the "chef", before Woltin set him up with Luigi's Coal Fired Pizza. They continued advertising that Luigi was the chef on their web site for 2 years.
AFAIK there was no big change at this place that justified they raising their prices. They just decided to become a high end restaurant one day, and BAM!, their prices were up 40%. They can't fool me.
Review 10/13/09
Formerly Rino's, Rino has left the building and the restaurant is now owned by the group that owns Johnny V's and Smith and Jones. They still have chef Luigi DiMeo on their web site, but Luigi has left to start his own restaurant, Luigi's Coal Oven Pizza. The Tuscan Grill is a small, handsome space with a black granite bar and a TV, however its more likely that the TV will have the Food Channel on than the game. There are only about 10 tables indoors and a couple on the front porch; they've commandeered the old "storks" patio so now they have tables by the river on weekends, which makes for nice outdoor dining.
The menu is somewhat limited and disappointing. While they have quite a selection of wines by the bottle, they don't have any premium wines by the glass. An Italian restaurant without a Chianti Riserva? Even Carrabba's has Riserva's by the glass.
They also advertise a 4 course "Prix Fixe" menu with some interesting items such as a Veal Chop and a Tuscan Skirt Steak. What's disappointing is that you can't order those on the regular menu; they're only available on the 4 course special. Also, the special, which is $29.95, are smaller portions than the regular menu, so its not clear just how good a deal it is.
The menu is quite similar to Mancini's next door, with fewer choices. Make sure you ask for bread; its a crusty mini loaf paritally sliced thin and oozing with garlic butter. Its a great starter with a glass of red wine.
A Caprese salad (stacked mozzarella, tomatoes, basil) featured nice cheese, but is short on basil and dressing and long on unwanted field greens. Its served virtually dry with a pesto drizzle on the side; so you'll need to supply your own olive oil and balsamic if thats what you expect.
The tuscan grill is a bit too "gay friendly" for my taste; when Gabriella was working the bar there would be businessmen at the bar during the week. But now it's just not a comfortable place to hang out.