Critic's Review
Andrews diner is a small restaurant that always seemed to be closed when I drove by; they close at 3pm most days. It has big one-way mirrors as windows, and inside its a small place. There are 2 rows of booths and the servers kind of circle around you, filling coffee and dropping off orders. I found the place very uncomfortable. With all of the people circling around it just felt like everyone was watching you eat. Good service often includes leaving your customers alone while they eat.
I ordered my usual, and my server asked if I wanted sweet and low. I asked about Splenda, and she said they had it but she'd have to fetch it. She brought me back 8 packets. I almost laughed. The reason they don't leave then on the table is so people don't steal them, but then they bring you 8 if you ask for it. I ended up not using the splenda, but its useful to know that they have it.
The crowd in the joint was downright creepy: some pierced, tattooed dudes, an old gay couple, a group of ancient old ladies. Combine that with the feeling that everyone was watching me eat and I was almost totally creeped out. I was a bit put off when some regulars sat at a table nearby and they were greeted with a reading of the morning's specials. Nobody read the specials to me. They definitely lose a service star for that.
My food was served in short order.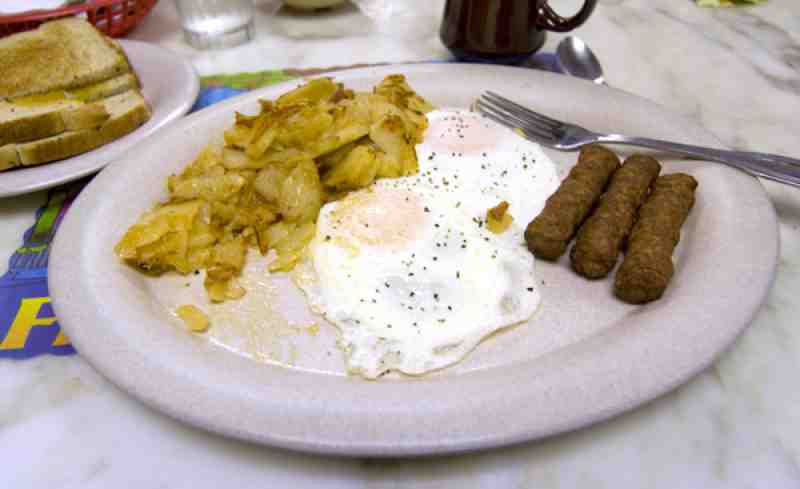 The eggs were slightly overcooked but nothing to get too annoyed about. The sausage was the supermarket freezer kind, but the home fries were fresh and well-prepared. They needed serious seasoning, but that seems pretty standard these days. The tiny coffee cup had to be filled regularly; why don't diners just get bigger cups? They all give you all you want now, so there's no point to a small cup.
I didn't realize that the coffee was included; the total came to $6.67 with tax. It certainly was a good value. Too bad the place is so creepy.