Critic's Review
Ilios is located by the pool in the Hilton Fort Lauderdale beach hotel. In order to get to it, you need to go in the main hotel entrance on the side road and take the elevator to the sixth floor. There are some parking spaces outside the hotel with meters where you may be able to park; or you can use the valet.
Ilios recently won the New Times Readers choice award as the Best Restaurant in Broward county, which has about as much credibility as an Iranian election. But it did bring back into my thoughts a place easily forgotten, so I decided to try it. I saw their menu online and wasn't particularly impressed with any of the choices. I also don't like eating in restaurants where a bunch of people ask your room number before you can be seated, particularly when you have to walk through the hotel to get there.
Ilios is a small place; its really not more than a bar with a bunch of tables. I didn't want to eat at a bar, so I opted to sit outside. Ilios also acts as the pool bar, and the dining area is adjacent to the pool.
On this day, I was lucky enough to have a couple of dudes measuring for curtains or something (see photo) and also a family with screaming kids behind me. I suppose thats the negative of poolside dining.
The menu here is very small, and they only had 1 special. The fish sandwich of the day was, surprise, surprise, Mahi. Everyone in Fort Lauderdale has Mahi. Its beer-battered and I supposed it was the same as the fish in the fish and chips, which was $3 more. I didn't want a burger or a turkey sandwich, so I ordered the fish sandwich. They brought my Pelligrino quickly enough. No bread. I guess you don't get bread with a $15 sandwich at the Hilton.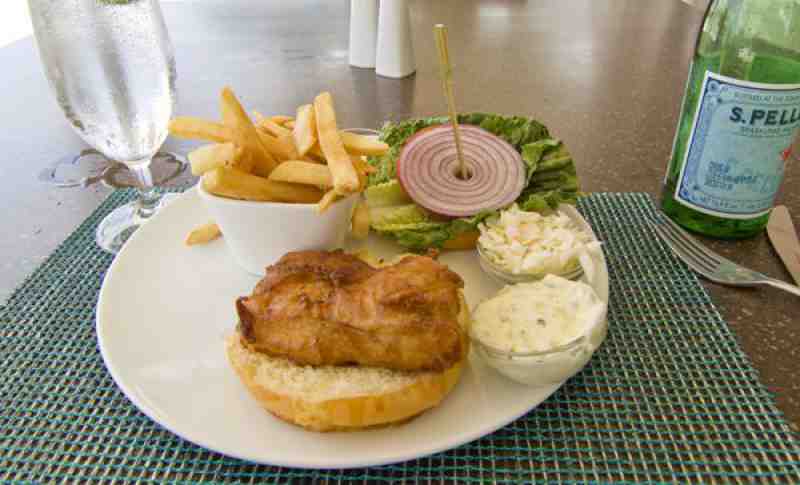 I suppose the presentation was dainty, but my first impression was that it wasn't a lot of food. A pretty small piece of fish, a thimble full of cole slaw and a small portion of french fries. The french fries were completely devoid of flavor or seasoning. The container holding the cole slaw was too small to even get the fork into. It was only a fork-full anyway, and it wasn't any better than ok. The tartar sauce was good, and spread on the roll added a nice complimentary flavor to the fish. As for the fish, it was pretty good, however mahi is a bit moist for this type of battering and it didn't hold up well. It was difficult to keep it in the sandwich. I'm not sure how raw onion fit in with this dish; it remained on the plate along with the big lettuce leaf.
The sandwich with a small Pelligrino: $24 with tip.
My overall impression is that Ilios is an overpriced pool bar which emphasizes presentation more than giving their customers a decent meal. Its the only restaurant in the hotel, so it serves breakfast, lunch, dinner and snacks by the pool. For dinner they serve mostly tapas, in small and large plate portions. It might be better at night without the screaming kids.