Update 9/2019
The city has taken the parking permit scheme to another level; It's still $24 but they no longer issue a sticker. Your license plate is programmed into their system so you just have to have faith that their systems are up to date and working properly. They just give you a receipt and their word that all will be ok.
I'm a lot more comfortable with a sticker; the chances of getting a ticket "by mistake" are much higher now. And even if you can get it dismissed, it would be a tremendous hassle.
You used to be able to park anywhere in the big lot on the intracoastal; now 2/3 of that lot are gone, so you can only park with the permit in the small lot left on the north side (see map).
Note that the City of Hollywood give out Free parking permits to tax paying residents.
Previous Musings 2/2017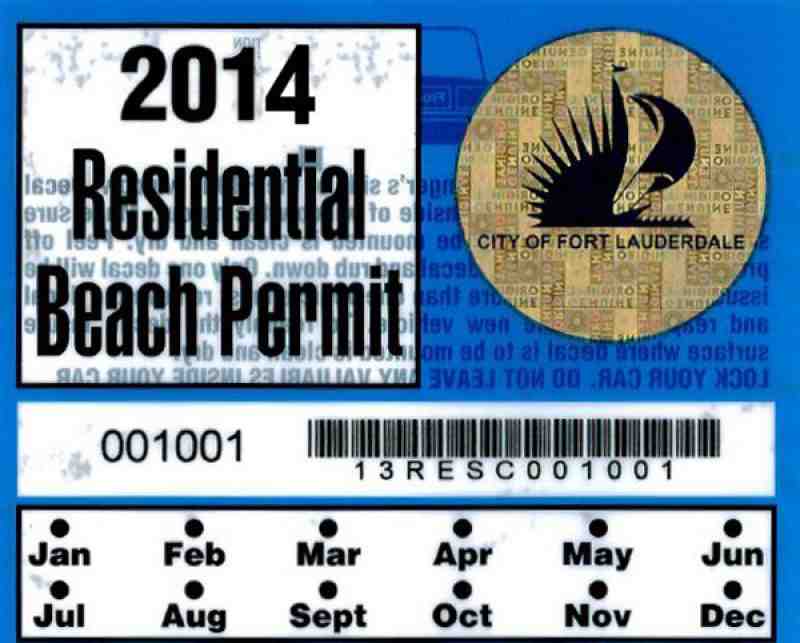 The $6 Parking Card idea has turned into a money-making scheme for the city; the "free" parking program has turned into a yearly fee. The $6 service charge for a plastic card has turned into a $24 fee for a window sticker that likely costs a few dimes to produce. Adding insult to injury, they charge $6 extra if you want it mailed to you.
Reminds me of the Jones Beach "Empire Passport". When it started, parking was $6 and the yearly pass was $15. Now it's $10 to park and $65 for the pass. With a 12 week beach season, you have to go to the beach every other week just to break even. And there's lots of other beaches on Long Island that don't accept the pass.
So the idea that we should get free parking because we pay $1000s in local taxes went down the drain because a bunch of fat old ladies decided that they could make some money from the program.
A "no brainer" has turned into a big Yawn. Government sucks.
Original Article June 2010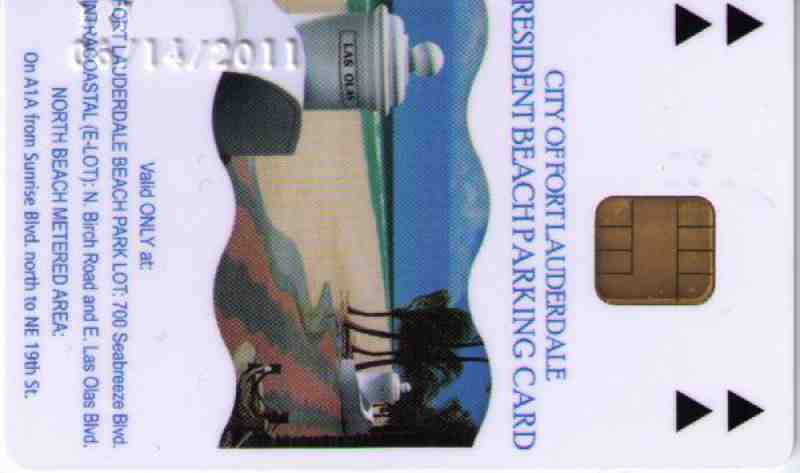 If you go to the beach more than a few times a year and you live in Fort Lauderdale, you can get a Resident Beach Parking Card for just $6 a year that allows you to park for Free at the beach. Not anywhere you want of course, but at 2 big lots near the main Las Olas Beach and along the road just North of Sunrise. At $1/hour or $1.75/hour you can make back your money on one lazy afternoon. Its really a no brainer.
To get your pass you need to provide proof that you you currently live in Fort Lauderdale and that you have a registered car here. The rules are that your car must be registered in the same name and same location as your residence. If you rent you can get a pass by presenting your lease; but snowbirds can't get a parking card, as the residence must be homesteaded. Another blow to snowbirds, who continue to pay more taxes and get fewer services. Lets drive them away with these silly rules so that we can have more empty condos and pay more taxes ourselves. You have to bring your driver's license, your last utility bill and your car registration. If you're a renter you'll need your lease; if you're an owner you don't need to bring anything as they just look you up on the computer.
The office is at the corner of NE 3rd Ave and NE 3rd Street in downtown Fort Lauderdale. There's a private parking lot in the rear (on NE 3rd Street) and the door to the office is right there. You hand all of your paperwork to a dude behind some glass and he checks you out like you're applying for high security clearance. After a while he asks you to sign the "agreement" which is all sorts of mumbo-jumbo about how if you don't pay your parking tickets or you lose your card you're going to be in hot water. After an inexplicable 15 minutes you hand him $6 and he gives you a personalize card. You're good to go for a year of free beach parking.