Critic's Review
The Capital Grille is a chain restaurant owned by Darden, the same owner as Red Lobster, Olive Garden, Seasons 52 and Longhorn steakhouse. Capital Grille is the only high end brand. It's an expensive place, even for lunch.
I arrived a bit before my companion and I hung out for a bit by the bar. At this location, the bar and the lobby with the hostess is in the same room; it's not a very comfortable bar. There were 2 managers sitting at the bar. I'm glad I wasn't eating lunch at the bar here.
I asked for a table for 2, and the hostess asked for my last name. I really don't like to give out my last name; why can't they just call me by my first name? It seems that they have some sort of formality strategy; the waiter comes over and greets you as "Mr Smith" or in this case "Mr and Mrs Smith". No, we're not married. What pct of couples at lunch are married?
The dining room was pretty nice with an open wine room and an open kitchen. They have plenty of booths; the place is pretty empty after 2pm.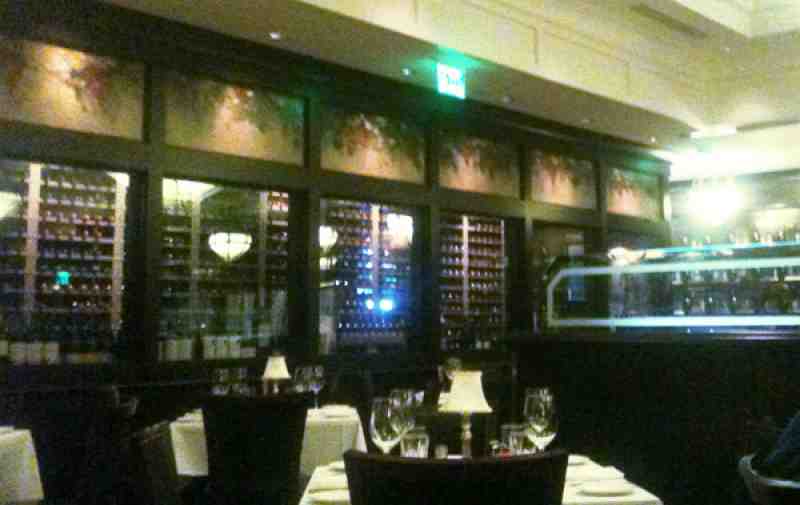 There are some things about this place that really bug me. The waiter "recommended" the most expensive dishes on the menu; a cup of soup is $9 and a bowl is $10. It's just insulting. Why do they bother?They give you the specials but not the prices; a special of Dover Sole sounded good but knowing this place it was probably $50 so I ordered the bone-in 14oz sirloin. A $25 lunch steak which includes 1 side. The "Mrs" ordered a rib-eye sandwich
My steak was perfectly medium rare.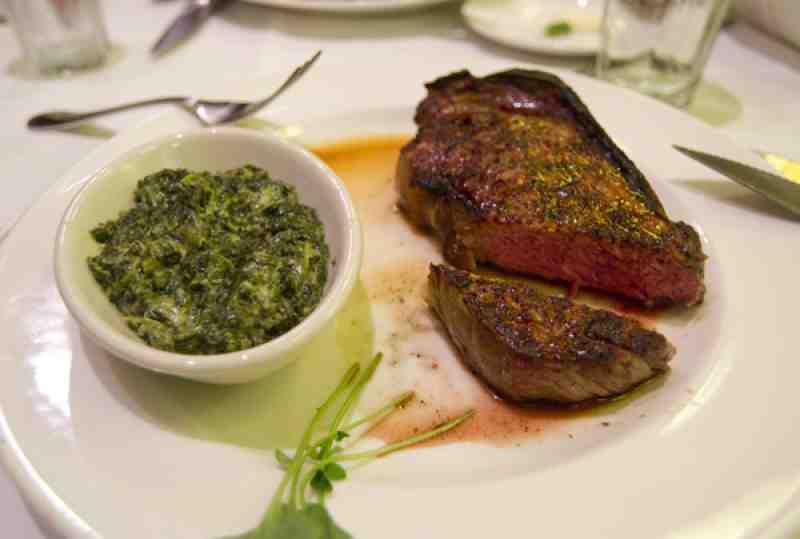 Now a word about the beef here. Capital Grille does not serve prime beef. They serve dry aged beef. Now usually dry aged beef is prime, but not in this case. Some argue that dry aging is better; it's a fairly expensive process. The moisture is evaporated and the meat gets a more concentrated taste. While prime is flavored by the fat. Personally, I prefer prime beef. You almost never see prime sirloin for some reason; I don't know what they do with them. But prime sirloin is really good. This steak was a tasty piece of meat, but not the way a prime steak tastes. To me, dry aging improves a choice cut, but not to the point of prime. I've had the 12oz sirloin at Longhorn for $12.49 and it's a pretty good steak. Is this twice as good? No, not really. It's a bit pricey for lunch. This is a $20 steak. The creamed spinach here is excellent however.
When I got the bill, they charged $3.50 each for 2 sodas with no refills (we were offered refills as we were just finishing up; too late). It pretty much sums up how I feel about this place; everything is pretty good but everything is just a bit more expensive than it should be.
Photo Gallery